You are invited to discover our community's origins and its soul through innovative programs that enrich, delight, and surprise. Whatever your interests, there is something at the Historic Trust that will appeal to your senses.
What We Do at The Historic Trust
Patriotic Events
Patriotic Events remind us of not only those who have served, given their lives, or currently defend our democracy, but of the difference an individual can make in a free society. Taking time to remind ourselves of our love for country and community unites us all. The Historic Trust proudly presents the following events:
Independence Day
Marshall Awards/Lecture
Veterans Parade
Walking Tours
Walking and Talking Tours provide so many opportunities to explore. The slower pace of a walking tour allows you interact with the environment, notice things more appropriately, ask questions, and quench your curiosity. Expert docents guide you through unique people and times in order to find the personal connection to your own life and aspirations. From missionaries, to military, to the dearly departed, the Historic Trust can help retrace the footsteps of those who have come before you. Tours include:
Providence Academy
Officers Row
Post Cemeteries
Marshall House
Grant House
O. O. Howard House
West Barracks
Historic Resources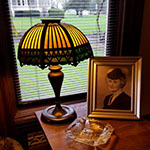 The Historic Resources in our region represent the contributions and collective human experience of a diverse population over the past thousands of years. This rich heritage is captured in the writings, ideas, traditions, customs, objects, and artifacts of a landscape that consistently reflected those who occupied the land. The Historic Trust will always seek to find new ways, new methods, new techniques, and new innovations in sharing the people, architecture, culture, politics, military, science, economics, technologies, religions, anthropology, passion, and vision through interactive technologies of:
Web Exhibitions
Interpretive Displays
Digital Capital
Artifacts, Documents, Photographs, Memorabilia
Learning Opportunities
Trust Learning Opportunities should be personalized and self-selected. Curiosity catalyzes understanding and is the future for engaging and exciting both young and mature minds. In order to resonate within the context of your life the Trust recognizes that it take various approaches to engage in thought processes that serve the whole person. Our menu of ways to offer you a new perspective and learning includes:
Lectures
Classes
Workshops
"The real voyage of discovery consists not in seeking new landscapes, but in having new eyes."
Marcel Proust
Mission
The Historic Trust inspires civic pride and economic vitality through education, preservation, and celebration of our community's history.
Vision
The Historic Trust envisions a vibrant community that preserves and celebrates its rich history while shaping its legacy for the future.
The Historic Trust strives to provide value through:
Expertise in experiential education relevant to all ages
Expertise in management and renovation of historically significant buildings and grounds
Leadership in and execution of community programs
Being agile and entrepreneurial
Leveraging opportunities and the community's philanthropic capacity