JUNE 14TH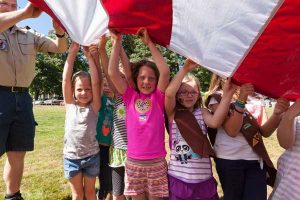 Celebrate our country's stars and stripes, and join us for the 23rd annual Flag Day at Fort Vancouver presented by Davidson and Associates Insurance! Celebrate our nation's flag, and participate in the ceremony and kid's activities on Flag Day – Thursday, June14th 2018. Watch the 2017 Flag Day Ceremony here!
Schedule
5:00 PM – Flag Day Ceremony
Featuring: Pledge of Allegiance, National Anthem, US History Quiz (Sunset Elementary 5th Grade Students vs. Clark County Mayors), Declaration of Independence Skit (Marshall Elementary 5th Grade Students), and the Clark County Mayor's Patriotic Tie Contest
5:45 PM – Flag Day Activities
After the ceremony ends, the whole family can participate in Flag Day activities! Color Washington State Symbols, learn patriotic songs, learn how to march, tour a historic landmark, and learn proper flag etiquette!
This is a free event that is open to the public!
HISTORY OF FLAG DAY
An important component to the event is student engagement. Though Flag Day takes place at the very end of the school year, students have been able to participate in the event through historical reenactments and history quizzes. In 2010, the Clark County Mayors' Patriotic Tie Competition was developed and Mayors from Clark County municipalities participate and bring supporters from their cities to attend the event. Average attendance is 250-400 (weather depending).