Remember when… Independence Day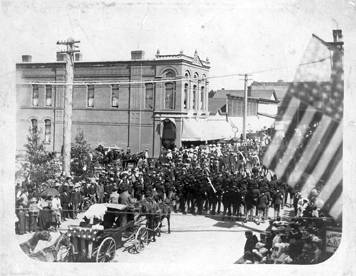 4th of July Parade in 1895 moves down Main Street in Vancouver. Source: Clark County Historical Museum
Since 2004, The Historic Trust has been honored to host Vancouver's 4th of July Fireworks Spectacular on behalf of the City of Vancouver. However, The Trust is just one of many organizations that has hosted this time-honored community event.
Since the first local celebration in 1855, Vancouver has thrown some memorable Independence Day festivities, often in cooperation with the U.S. Army at Fort Vancouver. In 1879, the City of Vancouver celebration included a raised dance floor with bands performing throughout the day, military drill competitions, and a baseball tournament. Excursion boats Vancouver and Columbia Chief were enlisted to ferry folks from Portland to the event.

 A tug of war match during a 4th of July celebration in Vancouver. Source: Clark County Historical Museum
In later years, the event would grow and change to include parades, the Mid-Columbia Regatta, carnivals, bike races, patriotic presentations and, of course, fireworks displays. Whatever the format of the event, locals found ways to mark the holiday with their families and community. On July 4, 1900, the event was described as "Dismal…it rained, rained, rained! Yet, Vancouver and its many visitors tried to make the most of it." Due to the downpour, only the Seventh Infantry and a few carriages participated in the annual parade, but many people still attended the fireworks display. During the Great Depression, Independence Day was unsurprisingly celebrated in a smaller fashion. In 1936, the Vancouver American Legion canceled the carnival and festivities, and the Chamber of Commerce canceled the regatta—only the parade remained.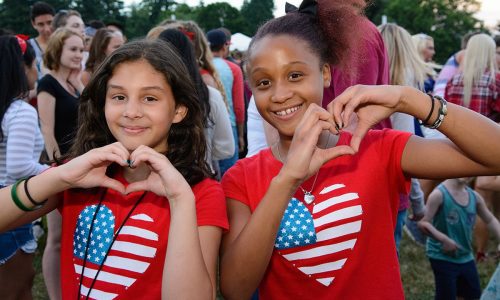 Enjoying a concert at Vancouver's Fireworks Spectacular, ca. 2016 Source: The Historic Trust
In 1963, Vancouver florist Jim Larson organized a new 4th of July Committee which began a four-decade reign of volunteer production of a large community fireworks show on the grounds of Fort Vancouver National Historic Site. The show grew over time from having the fireworks placed in hand-dug trenches and lit by volunteers, to the professional and highly-synchronized show typical of today.
The Historic Trust's involvement in the event began in 2004, and overlapped with the volunteer efforts. Though the format of the event has evolved, the spirit of civic pride and community connectedness has remained strong over many generations. The Historic Trust hopes to see the Independence Day celebration return in 2021.