History of The Chapel Renovation
Throughout its history, the Chapel walls have been painted many colors including green, blue and cream. For this most recent preservation project, the walls and ceiling were painted cream and grey, with the apse detailed in blue, a color palette that was developed with the expert advice of interior architects from SERA.
The altar, carved by Mother Joseph and probably other Sisters, has a dark finish, which best replicates how it appeared originally in historic photographs..
Faux finishing involves a lot of detailed, handwork to replicate the kind of grain you'd see in a natural dark wood. This kind of detailed painting, done here by artist Phil Emmerling, gives the wood a richer feeling.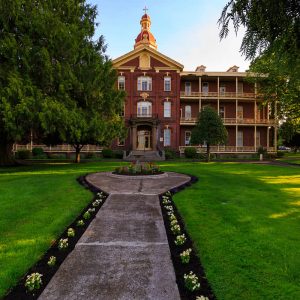 Mother Joseph of the Sacred Heart, designer of Providence Academy, was skilled at woodworking, which she was taught by her coach-making father.
Mother Joseph used her skills to do a lot of the wood carving at Providence Academy, including the altar. Purportedly, she was involved with making the original pews. It is known that the Sisters created much of the Chapel's decor themselves, but due to their inherent modesty, it is difficult to assign credit to any individual. One thing is certain, buildings like Providence Academy require a supportive community to preserve the many stories that began, and continue to thrive, in this place. At The Historic Trust we are so grateful to the many donors who have contributed to the purchase and ongoing historic rehabilitation of Providence Academy.