3rd Annual The Vancouver Chautauqua at The Historic Trust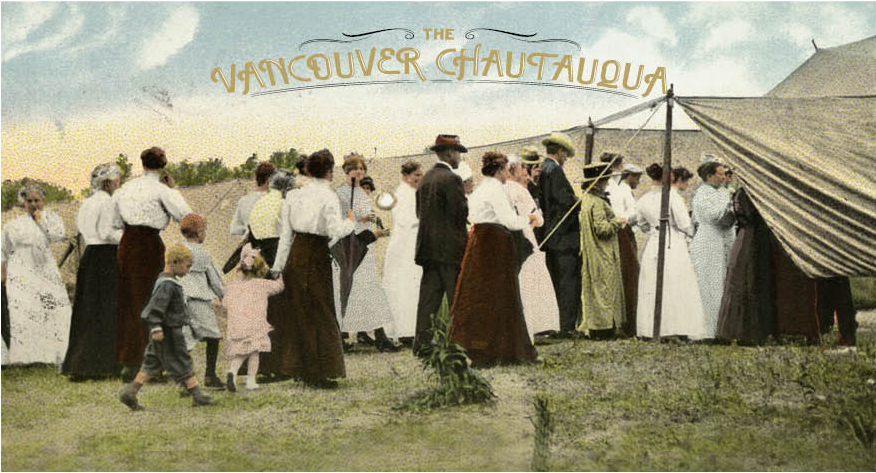 Explore Six Days of History, Performances, Lectures, Workshops, and Literature
The Historic Trust, its partners and numerous community participants join together to present six days of discover, networking, opportunities to share ideas, and be entertained.  This year's activities are even more diverse; there is something for everyone.  The Vancouver Chautauqua is modeled after the iconic Chautauquas popular in the late 19th and early 20th Century America.  These Chautauquas brought speakers, teachers, musicians, entertainers and crafts people together for the entertainment and education of the community.  Theodore Roosevelt was quoted as saying that Chautauqua is "the most American thing in America."
Registration is open.
Walk & Talk History Tours
Officers Row & West Barracks: For over a century, the late 19th and early 20th century homes on Officers Row served as residential housing for many soldiers, officers, and families stationed at the Vancouver Barracks. The tour finishes at the West Barracks in exploration of the WWI and WWII impact in these iconic U.S. Army Buildings.
Post Cemetery: The Vancouver Barracks Post Cemetery hosts four Medal of Honor recipients. Presented by the Vancouver Barracks Military Association.
Marshall House: This tour of the former residence of General George C. Marshall provides insight into the 3 years he was assigned here, the major events that occurred. The home is beautiful appointed in the Victorian style furnishings and decoration of that era.
Providence Academy: Built by Mother Joseph of the Sacred Heart in 1873, Providence Academy is one of the most important buildings in Pacific NW history. It served as a school, orphanage and governance offices for the Sisters of Providence.
Aviation History Pearson Field Education Center: PFEC is a unique hangar filled with memorabilia of a by-gone flight era and is now filled with young people engaged in STEM education through the lens of aviation.
The Botanic Tour: A partnership between the City of Vancouver's Urban Forest department, The Historic Trust, and local experts reveals the Botanic Tour of plant, flower and tree species along Officers Row on Evergreen Boulevard.
Exhibitions
Standing Together: Women's Suffrage: A special exhibition loan from the National Women's Party in Washington DC features the powerful images, words and political ambitions of American women in their search to secure the right to vote. Coupled with this exhibit is a special lecture, a suffrage-era play, and a featured public panel discussion.
SP&S in the Columbia Gorge: Rail Transportation on the Columbia River A fantastic partnership presentation of the Southwest Washington Model Railroaders and the Clark County Historical Museum feature a fully functioning two trains on tracks around a layout through scenes of Vancouver, Beacon Rock, Cape Horn, Maryhill along with CCHM historic panels. Ages 8 – 80.
Celebrating Vancouver Barracks: Lower Columbia Veterans Coalition A unique series of military "fashion" shows will be presented on the "runway" porch. Included will be historic vehicle displays, interpretive displays, educational seminars and a WWI song concert.
Performance Events
Lauren Sheehan's American Folk Music: Lauren's brilliant guitar, banjo and mandolin picking, silky vocal and stylistic breadth lead audiences into parlors, back porches, dance halls and churches across time and geographic regions of the country. She loves it when the audience makes requests.
Magenta Theater's Suffrage Play: Magenta Theater is a community theater located in the heart of the downtown arts district, celebrating its 17th season. Magenta Theater teams up with The Historic Trust to produce a 45 minute play, based in the British Suffrage movement, and contemporized for American audiences. Performed in "black chair" format, the un-adorned words and voice are the focus.
The Ne Plus Ultra Jass Orchestra (Distilled): Performing hits of the 1920s and '30s, using original charts and transcriptions of period recordings, this subgroup of the Ne Plus Ultra Jass Orchestra is sure to have your feet tapping to the greatest Charlestons and Fox Trots of the Golden Age of American Jazz!
Washington Dance Creative's Chem(I)stry: Vancouver's own dance company presents work from their latest show that explores the chemistry dancers have onstage and how it pushes them to greater heights as artists. Come see how dancers connect with live music, the audience, and each other.
Misty Mamas Americana Music: Misty Mamas serve up home-style bluegrass filled with powerful harmonies, traditional and original songs as well as tasty instrumentals combining the American genres of bluegrass, old time, gospel, folk and country music.
Cecelia Otto, An American Songline®: Experience American history through the music of a century ago with mezzo-contralto Cecelia Otto. This program is a unique mixture of vintage music, timeless stories, and fun facts leaving audiences entertained, informed, and delighted. The program will cover a variety of topics including women's suffrage, life after WWI, and the hits of the day. Click HERE for program information.
Opera on Tap: Opera on Tap returns this year for another featured set of classic opera and Broadway performances on Saturday evening. They will be joined in this performance by select sophomore and junior high school students who will have participate in a vocal workshop conducted by OOT, Jacob Fund of Clark College and Dr. Maestro Evan C. Paul

 
Lectures
Lecture: Washington State Suffrage: Tracy Reilly-Kelly is a legend in the Clark County community. She has inspired countless others to good work, and continues herself to be a beacon for great things to be. Her interest in women's issues is long-standing and well-crafted. She presents a lecture on Washington State women involved in achieving the right to vote.
Lecture: Scottish Samplers – Embroidered Stories: Childhood Samplers: Vancouver's Leslie Durst is a philanthropist and art collector. Durst started collecting Scottish samplers that struck her fancy. It became an obsession where she has built what is reported the largest private collection of samplers in the world. Hear her stories and see her artwork. 
Lecture: Lewis & Clark – Corps of Discovery: A small team of tough young men set out an an expedition that lasted 863 days across 7,689 miles. History books and journals tell us a lot, but much more happened as well.
Panel: Clark County League of Women Voters Panel on the Advancement of Women: In collaboration with the CCLWV, special opportunities to discuss women's issues since Suffrage focus on successes, challenges, and work still to be done. They believe women are a strong political force who need to be guided, nurtured, developed and promoted. All participants will be able to register to vote at the event, and join in discussion with leading experts and opinion-makers on voting.
Lecture: What Style Is It? – Vancuver's Architectural Discoveries: Join Vancouver native and State Architectural Historian, Michael Houser, on a discovery of the rich architectural history of Vancouver and the surrounding communities. Learn the details and backgrounds of various residential designs from the 1870s to the 1970s.
Workshops
Origami Collective Art Installation: Ori meaning "folding" and Kami meaning "paper" is the art of paper folding. In modern use it is an inclusive term for all folding practices regardless of culture. This group activity will result in a collective presentation of individual efforts into an overarching themes.
Fiber Art – The Common Thread Crochet Sculpture: Collaboratively build a large 3-D free-standing shape. Each sessions's participants make choices that grow the shape until on the last day it is a unique, finished sculpture. This is a return and expansion of last year's successful workshop. New techniques will be taught each day. Come for one session or all six.
Body by Broadway/Fitness Class: Body by Broadway classes will have a different song each evening. These beginning level classes are designed for people to have fun and imagine themselves in a Broadway show. Presented by Pacific Stageworks, participants should wear athletic/dance shoes and clothing in which they can move. Water will be provided.
Community Sing-Along: Misty Mamas will present an experience of joy. Sing loud, sing together, sing on tune, sing out of tune, sing with precision, but just sing. Raise your voice with others in familiar and new songs and feel the power of unified voices.
American Folk Music Salon: Lauren Sheehan, the one-woman jukebox, presents a workshop that brings people together across varied musical backgrounds, voices and instrumentation that is inspired by musical elders, oral tradition, scholarship and various musical training. This unusual way of making music should not be missed. For all ages and abilities.
Quest: Hunt for the Treasure: The Fort Vancouver Regional Library in collaboration with The Historic Trust will present an opportunity for young people and their families to participate in a treasure hunt of learning. Clues will be available at Howard House, which can be used at the Fort Vancouver site in the quest for treasure. Come to learn and play with some individual treasures as your takeaway reward.
Technology Access
APP: Providence Academy Journey: Explore the history of Providence Academy in augmented reality. Point your smart phone or tablet at icons in the Providence Academy building, or view them offsite directly on your device. You will interact with videos and graphics that tell the remarkable story of Mother Joseph and the Sisters of Providence. Free download.
APP: Unfolding Vancouver: Build historic Vancouver from the ground up! Choose from one of four animal guides to help you discover the rich history of Vancouver, WA. Harvest wood and other natural resources to unlock important landmark locations. Meet some of Vancouver's most famous figures like General George C. Marshall and Mother Joseph. Personalize your city with your own flair.